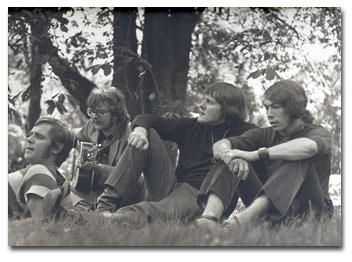 Orpheus
L-R: Jack, (name deleted),
Snake, Harry
Date: 1969
Location: Somewhere in
New York
Photo: Stephen
Lorber
© Iris Properties, Inc.

First
Previous
Next
Last
This is perhaps the most well-known of all of the photographs of the original Orpheus. It was used as cover art for both the Ace Big Beat CD compilation "The Best of Orpheus" and the Varese Sarabande CD compilation "The Very Best of Orpheus." In addition, this was the front of a poster which the group handed out at concerts for several months during 1969. The back of the poster included some biographical prose/poetry, which you can read here.


Note: One of the founding members of Orpheus has requested that his name be removed from this page, and his likeness obscured. As a courtesy to this individual we have partially complied with this request by deleting his name, despite the fact that his identity is a matter of public record. This individual has been designated (name deleted). We have not obscured his likeness, because the photo is copyrighted by Iris Properties, Inc., and is posted with permission.